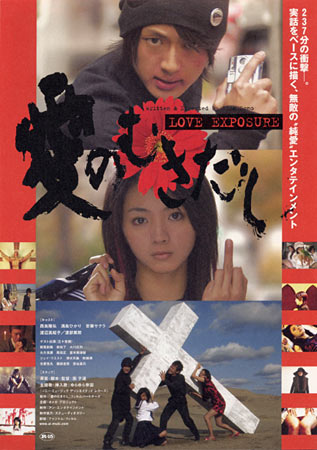 I first learned of this 2008 Japanese film from an enthusiastic review on the sadly now defunct British podcast
Mondo Movie
(listen to the first 17 minutes of episode
102 - The Up-Skirt Locker
) whose called it in their description "Sion Sono's dazzling four-hour mix of teen romance, religious fervour and pantie-peeking pornography."
It finally started showing here in the States earlier this year and CHUD
reviewed it lovingly
, stressing that it is long (237 minutes) but that it feels more like watching a mini-series than the usual boring epic film. And also that it is a delightful mix of styles and genres unlike anything else.
I'll hold off on calling it a "masterpiece" until I've seen more of the director's work, but for now I'll say that it is both profound and profane, and recommend it to anyone who loves cinema. And don't let the inherent weirdness turn you off, even the mainstream press have found it lovable: