Senna
Stirring celebration of a man I never heard of in a sport I never cared for (grown men driving in circles?). But Ayrton Senna (1960-1994) was a world champion Formula One race driver and a hero to the people of Brazil. After getting a glimpse into the back-room politics and the viewpoint from the driver's seat while on the track, I came out of this with a new respect for auto racing.
Amazing that this documentary consists only of film/video taken of during Senna's career with audio derived from from years worth of interviews with the man, his family, and those within the racing world who knew or worked with him. He was such a superstar that while there is an abundance of footage before, during, and after races, there are also plenty of candid moments: Senna on vacation with his family, being mobbed by appreciative fans, or making appearances on Brazilian TV, all of which add up to a portrait of a charming, intelligent man who, even when drawing on the most cliched sentiment in sports (thanking God for giving him a victory), his faith and gratitude seem genuine.
"Suddenly I realised that I was no longer driving the car consciously.
I was driving it by a kind of instinct, only I was in a different dimension.
I got closer to God."
Contagion
This is that rare Hollywood animal: an all-star disaster movie with class. Multiple stories overlap to show how different elements of society deal with a worldwide attack by a highly contagious deadly virus. Artfully directed by Steven Soderbergh, featuring a minimal electronic score by Cliff Martinez, and top-notch performances by its ensemble cast (Jennifer Ehle was particularly outstanding as a dedicated lab researcher who bravely tries out an experimental vaccine on herself), it is both bleak and hopeful.
Throughout, there are deaths, many deaths (including some of the big names in the cast), and once the public is informed of the magnitude of this disease, they naturally begin to panic. Soderbergh manages to balance these tense scenes of urban chaos against quiet moments of families dealing with grief. And lots and lots of laboratory work and logistical planning of how to quarantine and manage the infected. The clinical, procedural nature of the film makes it play out like a how-to manual in the case of a disaster.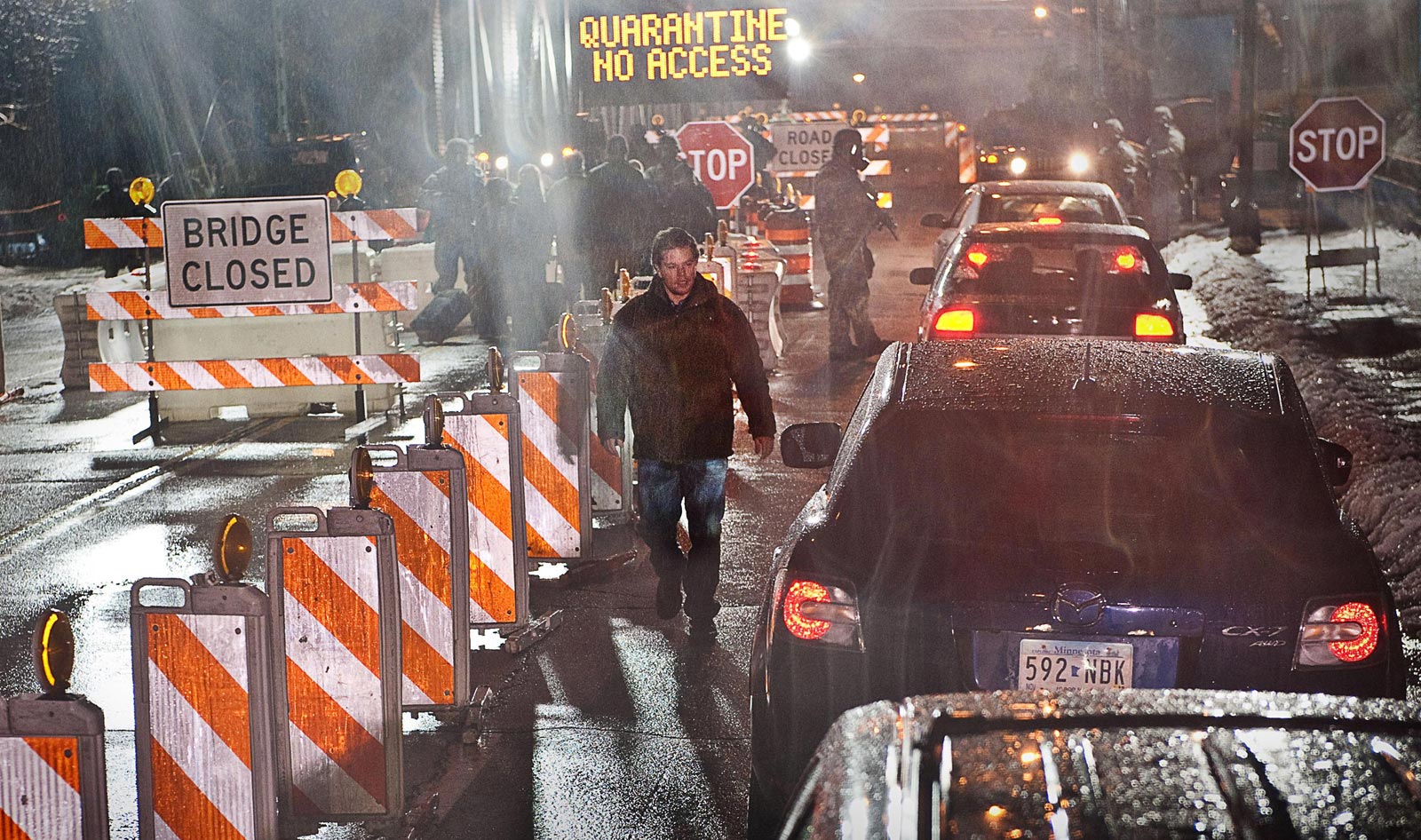 In fact, a cynical person could mistake this movie for a piece of pro-government propaganda. Most of the stories depict a best-case scenario in which a well-run bureaucracy (the CDC, World Health Organization, National Guard) fight the clock to identify, contain, and ultimately defeat this mysterious new enemy.
Jude Law (sporting a strange snaggle tooth appliance - to tone down his beauty, I assume) plays an overzealous blogger who has his own paranoid theories about the disease involving government collusion with pharmaceutical companies. But in contrast to the way our "liberal media" usually depicts journalists as truth-seeking heroes, in the world of Contagion, he is shown to be a greedy crackpot.
With it's positive behind-the-scenes look at government officials in the face of crisis, and the high quality of film-making on display (is Soderbergh really planning on retiring?), this is 2011's "feel good" movie about feeling bad.